Finally, last night the last App Store approved my application. Last.fm ON AIR is available at all three App Store: BlackBerry AppWorld, Android Market and Apple iTunes AppStore.
Information about all my Last.fm projects include the Last.fm ON AIR can be found on my Labs page.
Last.fm ON AIR allows you to search or listen to your favorite artists, tracks or albums. You manage your music library and scrobble the music you currently listen. Find nearby events and upload your tagged event photos directly to Flickr linked to the Last.fm event page.
A Last.fm subscription (PAID) is necessary to use the radio capabilities of the application.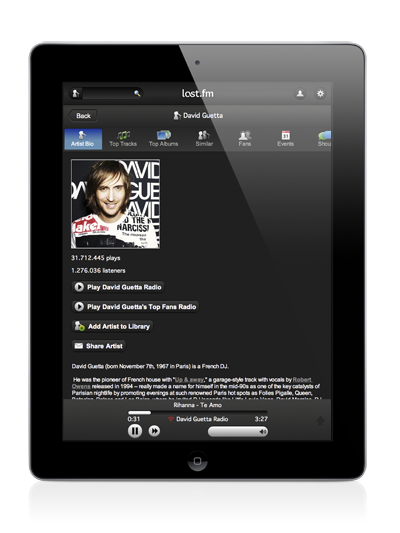 The application provides following functionality:
Listen to stations and Scrobbling (Paid Subscriber Only!)
Love and Ban Tracks
Add Artists, Albums and Tracks to your Library.
Search and Viewing informations about: Artists, Albums, Tracks, Events and Users
Attending Events
Landscape and Portrait Mode
Location based services (Find Events)
Uploading tagged Event Photos to Flickr
Add support for shouts
Device Integration: Use the buttons of the device to control application (Play/Pause/Skip/Change Volume). (Only BlackBerry PlayBook)
Open Music store to buy and search for artists, tracks and albums. (Only BlackBerry PlayBook)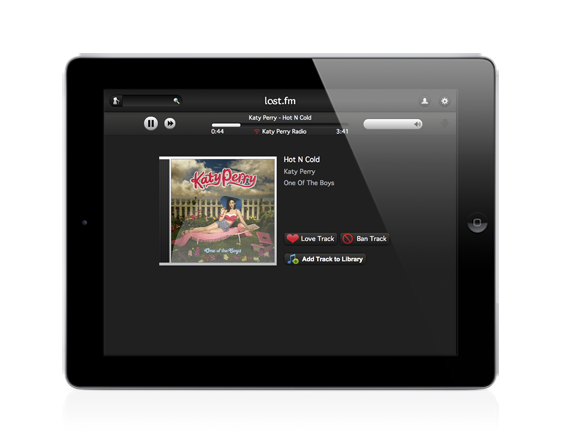 Here are the links to the application Last.fm ON AIR at the different App Stores.



I also created a group on Last.fm, where you post and share infos: Submit bugs, make feature requests, etc…
http://www.lastfm.de/group/Last.fm+ON+AIR
Credits
Thanks to the Last.fm team for allowing me to use their logo for my application.
Development and Design
The application is based on Adobe AIR 2.7 using Flex 4.5.1, which is optimzed for iOS application for Adobe AIR. As part of this project, I created my own Flex Library for the Last.fm. This library is implementing the latest Last.fm webservice API using OpenSource Flex MVC Framework Parsley. I will release this library as soon as I have finished the documentation for it.
For Design, I used Adobe Illustrator and Adobe Photoshop. I also used Adobe Flash Catalyst for my transforming my design into assets, because Flash Catalyst is a great tool to convert assets into FXG files for ActionScript Skins(Create Workflow to create FXG assets for ActionScript Skins). The reason why I didn't used Illustrator for step is that I found no way to export multiple FXG files from Illustrator file.
In the next days, I will write some blog post about what I learned in this project. For example: How to create Progressbar for Mobile AIR applications.